We provide training and consultancy services, using our renowned approach PROACT-SCIPr-UK®, for those who specialise in the education and care of individuals who display challenging behaviours.
We work with people caring and supporting people with autism, mental health conditions, dementia, learning and behavioural difficulties.
Our courses are led by experienced and professional trainers who have extensive knowledge and expertise of supporting both children and adults with challenging behaviours.
Our accredited training, PROACT-SCIPr-UK®, consists of positive approaches to behaviour management which encourages the use of proactive responses.
Alongside our training we offer a consultancy service and organise an annual conference.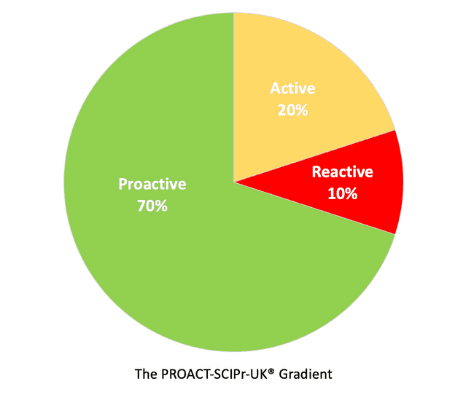 Our approach focusses on the PROACT-SCIPR-UK® gradient outlining how much of the technique and training is directed to different strategies.
70% – Proactive Strategies which would include independent community choices, relationship building, substitute skills, environmental modifications.
20% – Active using Positive Techniques including positive reinforcement, addressing immediate needs, teachable moments.
10% – Reactive using calming techniques, physical interventions, behaviour plans and consequences.